Our Aim
At Epsom and Ewell High School we consider it our duty to offer a bespoke careers guidance and support package to our students. Our program aims to cover all the Gatsby benchmarks; a set of guidelines outlined in a 2013 report by the Gatsby Foundation and are recommended in the DfE's Careers Strategy (December 2017) and the Statutory Guidance for Careers (January 2018).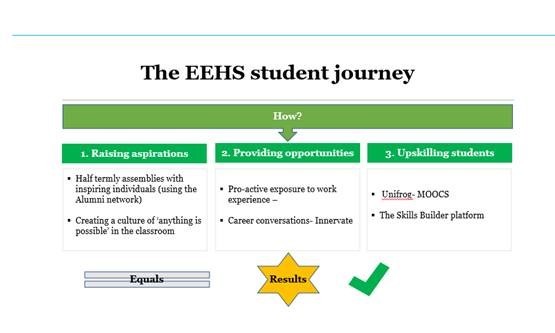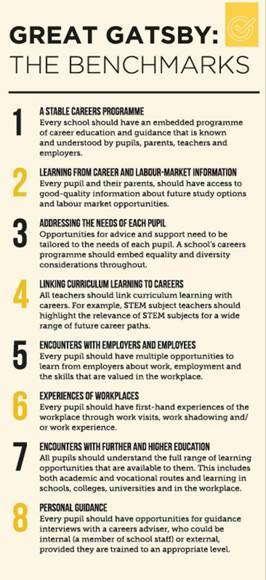 The Gatsby benchmarks are:
1. A stable careers programme
2. Learning from labour market information
3. Addressing the needs of each pupil
4. Linking curriculum learning to careers
5. Encounters with employers and employees
6. Experiences of workplaces
7. Encounters with further and higher education
8. Personal guidance
We recognise that we serve a suburban community in Greater London with a diverse socio-economic make up. As a result, we strive to raise students' aspirations and promote students' awareness of a wider range of career pathways, helping them to make well informed, realistic decisions about their future.
We have put in place a comprehensive and robust programme of support, delivered through the curriculum in years 7-13. We deliver our programme using resources from Be Ready during form time as well as PSHE sessions. Students also have the opportunity to complete independent programmes of study online using their Be Ready logins. These are accredited courses for which they receive certificates. Additionally, we benefit from the support of Innervate career services, who provide one-to-one personalised guidance to those who need it most in years 11-13. This has expanded students' access to a range of opportunities including advice tailored to the individual needs and circumstances of the students.
Actions taken
To improve the quality of provision for careers we have:
Initiated a programme of impartial careers advice and guidance.
Visited a wide range of universities including Oxbridge.
Invited representatives from employers as well as from further and higher education institutions to talk to our students.
Ensured that students have access to apprenticeship talks and employer visits.
Embedded careers into the pastoral programme.
Invited ex-students to return to EEHS to speak about their experiences since leaving school.
Employed an external and impartial careers service to work with students in a more focussed way.
Management of provider access requests
Procedure
A provider wishing to request access should contact Miss H Cobbold, Head of Sixth Form
Telephone: 0208 974 0400
Email: cobboldh@eehs.surrey.sch.uk
Opportunities for access
A number of events, integrated into the school careers programme, will offer providers an opportunity to come into school to speak to pupils and/or their parents/carers.
Please see our careers programme for each year group:
Useful Links
Skillsometer
Careerometer
Skills Checker
Alternatives to University
Help with Applications
Volunteering and Gap Years
Apprenticeships
Additional Career Sites